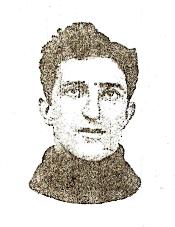 Full Name:
Arthur Taylor
Date of Birth:
Unknown
Place of Birth:
Unknown
Arthur Taylor
(1913/14 - 1922/23)
Possibly one of the most popular players to turn out for the club during this period was Arthur C Taylor who, until he had the misfortune to break an arm while playing against Guildford in an F.A. Cup tie early in the 1919/20 season, had occupied the position of goalie for the Dons for a number of years.

Entirely a local product, having played football for Haydons' Road School in 1903/04 when he assisted them to the championship of the Wimbledon & District Schools League. After leaving school he gained further experience with several junior teams, including Wimbledon Wednesday (then not a part of the parent club). He also assisted Bradford City during those years.

As a youngster he was considered an expert in saving penalties. In those days the keeper was not penalised for leaving the goal-line and his practice was to stand a few feet off the line, enabling him to cover more of the target, and his anticipation of the direction the ball was to be kicked was considered almost uncanny, and he invariably caught the ball in flight.

He joined Wimbledon at the start of the 1913/14 season, starting in the reserves before promotion to the first team, after which he played regularly until September 1914 when, like the majority of young sportsmen, he left all else to assist his country. He played for his regiment - the 6th East Kents (Buffs) during that season before leaving for active service. In 1915 he was wounded and, after recovering, assisted Canterbury Rangers in 1917. Upon demobilisation in February 1919 he returned to Wimbledon and played until November when the unfortunate incident in the Cup tie occurred. He returned to the team at short notice a year later for an Amateur Cup tie when, although obviously out of training, he did some surprisingly good work. His appearances thereafter were sporadic.

Also assisted Chesham United during their Spartan League / Berks & Bucks Senior Cup winning season, 1921/22.
1913/14: Appearances: 0 - Substitute: 0 - Goals: 0
1914/15: Appearances: 0 - Substitute: 0 - Goals: 0
1918/19
: Appearances: 0 - Substitute: 0 - Goals: 0
1919/20
: Appearances: 0 - Substitute: 0 - Goals: 0
1920/21
: Appearances: 0 - Substitute: 0 - Goals: 0
1922/23
: Appearances: 0 - Substitute: 0 - Goals: 0
- Total: Appearances: 0 - Substitute: 0 - Goals: 0