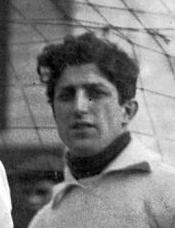 Full Name:
Arthur Clement Taylor
Date of Birth:
19 October 1891
Place of Birth:
Dulwich
Date of Death:
Q2 1942
Place of Death:
Surrey Mid Eastern
Arthur Taylor
(1913/14 - 1922/23)
Possibly one of the most popular players to turn out for the club during this period was Arthur C Taylor who, until he had the misfortune to break an arm while playing against Guildford in an F.A. Cup tie early in the 1919/20 season, had occupied the position of goalie for the Dons for a number of years.

Entirely a local product, having played football for Haydons' Road School in 1903/04 when he assisted them to the championship of the Wimbledon & District Schools League. After leaving school he gained further experience with several junior teams, including Wimbledon Wednesday (then not a part of the parent club). He also assisted Bradford City during those years.

As a youngster he was considered an expert in saving penalties. In those days the keeper was not penalised for leaving the goal-line and his practice was to stand a few feet off the line, enabling him to cover more of the target, his anticipation of the direction the ball was to be kicked was considered almost uncanny, and he invariably caught the ball in flight.

He joined Wimbledon at the start of the 1913/14 season, starting in the reserves before promotion to the first team, after which he played regularly until September 1914 when, like the majority of young sportsmen, he left all else to assist his country. He played for his regiment - the 6th East Kents (Buffs) during that season before leaving for active service. In 1915 he was wounded and, after recovering, assisted Canterbury Rangers in 1917. Upon demobilisation in February 1919 he returned to Wimbledon and played until November when the unfortunate incident in the Cup tie occurred. He returned to the team at short notice a year later for an Amateur Cup tie when, although obviously out of training, he did some surprisingly good work. His appearances thereafter were sporadic.

He also assisted Chesham United during their Spartan League / Berks & Bucks Senior Cup winning season, 1921/22 and London League side Millwall United.

He moved to Canada with a group of other English players, at a time when ex-pats dominated "soccer" in North America, playing for Toronto Scottish in Ontario and winning many representative honours. He then moved to Massachusetts to play for New Bedford Whalers in the American Soccer League.

He returned to England during the 1925/26 season and after a match for Chatham in the Kent League he signed amateur forms for Tottenham Hotspur and assisted their reserves.
1913/14: Appearances: 0 - Substitute: 0 - Goals: 0
1914/15: Appearances: 0 - Substitute: 0 - Goals: 0
1918/19
: Appearances: 0 - Substitute: 0 - Goals: 0
1919/20
: Appearances: 0 - Substitute: 0 - Goals: 0
1920/21
: Appearances: 0 - Substitute: 0 - Goals: 0
1922/23
: Appearances: 0 - Substitute: 0 - Goals: 0
- Total: Appearances: 0 - Substitute: 0 - Goals: 0
Genealogical Research:
These are research notes and may not relate to the player. Handle with care!

1891 b Dulwich, mother Charlotte (Snazell)

23/04/00 Admitted to Haydon's Road School (dob given as Oct 1892). 15 Hotham Road.

1901 Census
43 Hotham Road, b Dulwich, age 9
P: Charles and Charlotte
S: Thomas, Laura, George, Emily, Arthur, Clara

05/09/04 Admitted to Haydon's Road School (dob given as 19/10/1890). 43 Hotham Road. Father Charles, previous school Singlegate.

1911 Census
Butcher
43 Hotham Road, b Dulwich, age 19
P: Charles and Charlotte
S: Thomas, Laura, George, Emily, Arthur, Clara

1916 Q2
M: Elsie Gordon Burgess (Eastry, Kent)

1921
Son: Eric Arthur

d Surrey Mid Eastern Q2 1942