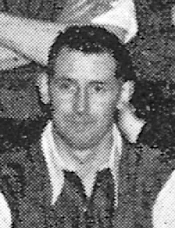 Full Name:
Tony Wright
Date of Birth:
1930
Place of Birth:
Unknown
Tony Wright
(1955/56 - 1958/59)
Son of a Worcestershire County Cricket Club player, Tony played regularly for Surrey Colts before deciding to concentrate on football.

Hid career started at St. Joseph's School, Crystal Palace, and while there he played several times in goal for England's Schools. However, on leaving school he joined Kingstonian as a centre-forward, also playing for the junior teams of Wolverhampton Wanderers, Fulham and Crystal Palace.

After three seasons at K's he move to Tooting & Mitcham, then spent a further four seasons at Carshalton Athletic before signing for the Dons towards the end of the 1955/56 season. He was Wimbledon's regular centre-forward until the arrival of Eddie Reynolds in 1957/58 and was an effective replacement for the big Irishman until the end of the 1958/59 Isthmian League title winning campaign.