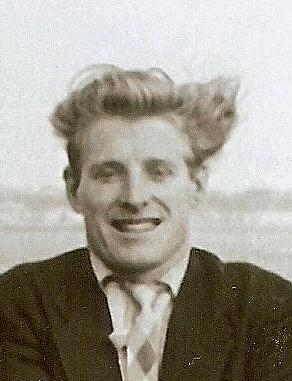 Full Name:
Jimmy Wright
Date of Birth:
1934
Place of Birth:
Unknown
Date of Death:
October 2017
Jimmy Wright
(1956/57 - 1960/61)
Educated at Byfleet School, where he was captain of the football team, Jim was a left-half who joined Wimbledon from Walton & Hersham in January 1957, soon broke into the first team and then took over as captain at the start of the 1957/58 season, leading the Dons to the Isthmian League title in 1958/59.

Capped by Surrey, at 13 stones Jim was described a having the build of a rugby forward but with the agility and cunning of a half-back. Gifted with a long and accurate kick which caught out many an opposition defence.

Jim was chased by both West Bromwich Albion and Cardiff City, but believed he was too old to turn professional, at 24!

After losing his place in the first team he was courted by Tooting & Mitcham in a tit-for-tat move after Ted Murphy joined the Dons.

A decorator by trade, Jim was fond of golf and jazz, with a particular liking of Dave Brubeck.
1956/57
: Appearances: 1 - Substitute: 0 - Goals: 0
1957/58
: Appearances: 38 - Substitute: 0 - Goals: 3
1958/59
: Appearances: 43 - Substitute: 0 - Goals: 7
1959/60
: Appearances: 47 - Substitute: 0 - Goals: 1
1960/61
: Appearances: 6 - Substitute: 0 - Goals: 0
- Total: Appearances: 135 - Substitute: 0 - Goals: 11