1958-59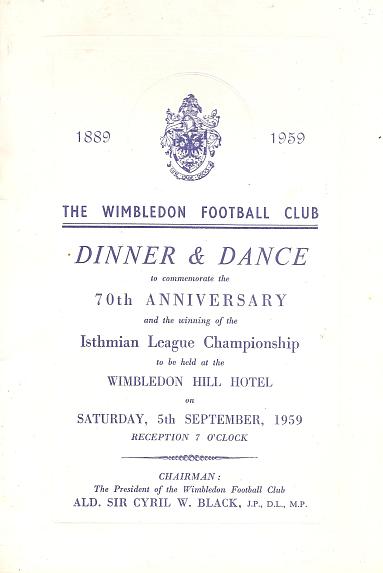 The playing side was strengthened in July 1958 when Geoff Hamm, the England amateur international forward, joined from Amateur Cup winners Woking, while Norman Williams signed from Tooting, the Isthmian League champions.

Wimbledon opened the season on foreign soil with a friendly at Luneray, in Northern France. They made a disastrous start, falling 2-0 behind in the opening two minutes, but rallied for a 6-2 win, with debutant Eric Corbridge scoring twice.

Corbridge repeated the feat with two penalties in the opening League game at Barking, but Wimbledon lost 4-2 and after that he went off to do his National Service.

Wimbledon, however, won their opening two League games, including a 5-4 victory over Woking in which Roy Law made his debut. But then the Dons lost 2-1 to Corinthian-Casuals at the old Cup Final ground at Crystal Palace, before taking another early FA Cup exit with a 2-1 reverse at Dorking.

The new North stand was opened officially before a friendly against the Army Side R.E.M.E. 4th Training Battalion, who included Corbridge in their side and Wimbledon began to find some good form. A 1-0 victory at Tooting, with Reynolds scoring in the 89th minute, established them as one of the League front-runners.

Wimbledon's appearance in the London Senior Cup Semi-Final the previous year had earned them a place in the London Challenge Cup and they were 'drawn against Arsenal at Highbury. Arsenal played nine first team regulars and the match was played under floodlights, the first time for Wimbledon. The Dons played very well, with Brian Martin twice equalising Arsenal goals, and well into the second half, with the score 2-2, Wimbledon looked as though they could bring Arsenal back to Plough Lane. But First Division class eventually told and Arsenal scored three late goals to win 5-­2.

Wycombe Wanderers were setting a hot pace in the League, but Wimbledon were not far behind, one highlight being an 11-1 thrashing of Leytonstone. Indeed, the 3-2 defeat at Walthamstow was their only League defeat between September 3 and March 21.

In the London Senior Cup, Wimbledon rode their luck to win 2-1 at Southall, surviving a second-half onslaught, but played poorly at Carshalton Athletic and lost 2-1. The following week, they visited Colston Avenue again in the Amateur Cup. Wimbledon's luck was right out and Norman Williams missed a penalty in a match dominated by the Dons. They were made to pay and the 3,300 spectators saw Carshalton score twice in the last seven minutes to win 2-0.

In the Surrey Senior Cup, Wimbledon beat Corinthian Casuals and Redhill quite easily, but they failed to take their chances against Dulwich once Reynolds had put them ahead, and went on to lose 3-1.

Wimbledon's excellent League form put leaders Wycombe under increasing' pressure and the Dons eventually moved top on February 21 by winning 2-1 at Woking. Wycombe kept their title hopes alive by beating Wimbledon rather more convinc­ingly than the 1-0 scoreline would suggest, but it was now clear that Dulwich Hamlet, with games in hand, were the most dangerous challengers.

Wimbledon consolidated their position by crushing Wycombe 4-0, the highlight being a 40-yard goal from Jim Wright and this victory set up a grand stand finale between Wimbledon and Dulwich Hamlet. Both sides had two games to play and had to play each other twice. Wimbledon were two points clear and had a vastly superior goal average and so Dulwich had to win both matches to take the title.

They never got a look in for, at Champion Hill, Alan Burton put Wimbledon ahead in the 15th minute and scored again early in the second half. And although Brown pulled one back for Dulwich in the 60th minute, a breakaway goal from Eddie Reynolds clinched the match 3-1 and with it, the Isthmian League Championship.

Shortly after 8 o'clock the final whistle went and hundreds of schoolboys invaded the pitch to acclaim Wimbledon's first Isth­mian League title since 1936. Wimbledon then beat Dulwich 3-1 at home to finish six points clear on 47 points, an Isthmian League record. They had remained unbeaten at home for the first time, with only Tooting leaving Plough Lane with a League point and had also scored 91 goals.

In January of that year Wimbledon had started a Development Association to raise money for ground improvements, there being a regular draw with prize money. This took off so well that at the end of 1958-9, it was estimated that £2,900 a year could be given out as prize money, with a further £2,600 going to the club. The total attendances at the first team's 20 home games topped 40,000, while gate receipts had increased from £2,991 to £3,691.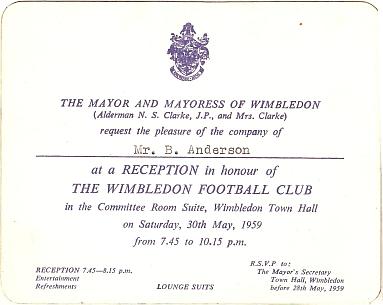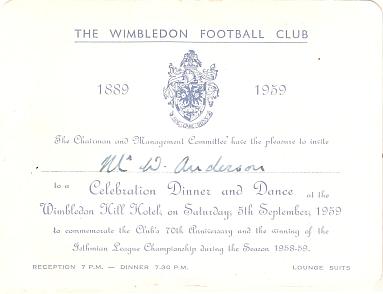 Images with thanks to Bill Anderson