1895-96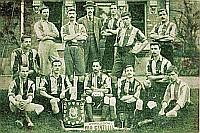 Wimbledon had the winning habit and they were to taste their first major triumph the following season when they switched to the more local Clapham League. They didn't lose a League game all season and a 3-1 win over Tooting Church Institute on the last Saturday of the season won them their first League Championship tide.

Not content with that, Wimbledon also cleaned up in the Herald League for a season's win double and a final record that read: Played 31; won 22; drawn 3; lost 6; for 71; against 31.

Centre Forward was predictably gush­ing. "Bravo, Centrals," he wrote after a mid season win over Southfields, "gained by the following artistes: Price (goal); Millege, Ely (backs); Jenkins, Scrutton, Hossack (half­backs); Anstee, Griffiths, Galloway, Edgcumbe, Jenkins (forwards)."