1904-05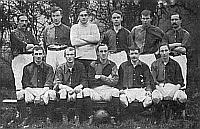 It was to prove an exciting season, and one that was to end in a history making decision. The South London Charity Cup was one of the premier competitions this side of The Thames, with the trophy to be won considered one of the best in the land. And Old Centrals proved equal to the task, progressing safely through the early rounds until they put out Wallington 3-1 in the semi-final.

And so to their first senior final, on April 15, 1905. Herne Hill race track was the venue, Nunhead the opposition, and with the scores deadlocked at a goal apiece, extra time was looming. But with that first big game final came Wimbledon's first in a long line of match winning heroes. His name was Pat Drummond, and, with just three minutes remaining, Drummond wrote himself into the club's record books. Forty yards out, he gained possession, shoulder charged a fullback out of the way, and dashed goalwards, slotting home a dramatic, late winner.

The cup was the Old Centrals, and more honours beckoned in the Southern Suburban League's end of season six-a-side com­petition. Drummond was there again as the Cent­rals cleaned up, with Hawkins, Coates, Saunders and E. and H. Anstee completing the winning team. Senior Cup winners for the first time, Wimbledon Old Centrals had successfully bridged the gap. The new era deserved a new image, and a new name.