1905-06

So it was that at the May 1, 1905 general meeting chairman F. Headicar and the club's 30 members present decided to drop the words 'Old Centrals' from the club's name. From that day on the boys from the Common end of town would be known simply as: Wimbledon FC.

It was a decision not taken lightly. Even the club's president of six years, A. Holland, JP, expressed "some regret" when he addressed the annual dinner at Wimbledon Hill Hotel five days later. "Perhaps the club will do better with a wider designation," he conceded.

Now playing in white shirts and blue shorts, Wimbledon had a new skipper in Hugh Jackson and a new League title to aim for in the Mid Surrey League. Their emergence had led to affiliation with the Surrey FA and the chance to com­pete in the Amateur Cup for the first time. And that opening Amateur Cup game duly came, at home to established Eversleigh on September 16, 1905. Wimbledon came through 4-2, but it was to prove a rare cup success that season, with Felstead putting paid to their London Senior Cup hopes, 5-1 in East London.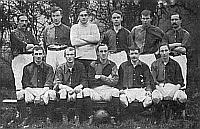 It was in the Mid Surrey League that Wimbledon produced their best football of the season. There was a long wait for the first win, Davis scoring four in a 5-1 victory over Guildford, but Wimbledon always had games in hand on early leaders Redhill. They finished the season with nine straight wins, including a solitary goal suc­cess over Caterham Guards Depot, to take the title, only being beaten twice in 18 Mid Surrey League starts.

The goals flowed as well, and for the sec­ond time Wimbledon topped the ton, scoring 105 in a total of 39 games. More medals and trophies to be presented, with a special award for secretary, F.C. Luffman, a gold medal from the editor of the Wimbledon News for submitting the best match reports of the season!

Luffman, a strong willed man, deserved similar honours from the club he served so well. On learning that several prominent clubs intended to field only their reserves in the following season's Mid Surrey League, he protested to the League's management committee, rightly fearing there would be a drastic drop in playing standards if that was allowed to happen.

His protestations, however, fell on deaf ears, and, acting on the club's instructions, he eventually gave notice of Wimbledon's desire to withdraw from the competition in May. The Mid Surrey League responded with a 50 shilling fine, Luffman refused to pay and Wimbledon were ordered to appear before the Surrey FA at the Oval on August 29. Luffman stood his ground, the FA said he was right, and the Mid Surrey League's claim was dismissed. Another 50 shillings saved, and, just as well, for the club's end of season bank balance showed a lowly credit of just £2, six shillings and 11 pence.